New First Aid Treatment Centre
We are always aiming to develop our first aid services in support of the local community. In 2021/22 our plan is to build a new First Aid Treatment Centre at Newark Showground. The current first aid post is reaching the end of its operational life, and this gives us the opportunity to build a modern Treatment Centre. We have been looking at this project since autumn of 2019 but due to the pandemic we had to put all our efforts during 2020 into supporting the community through the crisis. We are though now focusing on building a bespoke 5 bay modular building providing modern, hygienic, warm, and private facilities for the treatment of patients. The building will be like that in the picture below.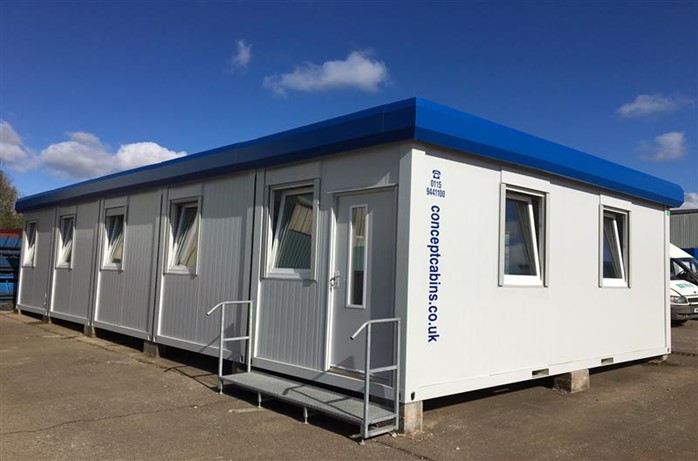 We are working in partnership with Newark and Nottinghamshire Agricultural Society (NNAS) who own and operate Newark Showground. The Showground is the main event site in the area attracting many local, regional and national events.
We have looked at the incident data that we have as the main first aid provider at Newark Showground, from this we have been able to work out what is needed in the new building to meet the current and future needs of patients. The data also pointed to a need to relocate the first aid post and working with NNAS we have agreed a new location meaning the facility will be central and accessible to far more events. The new design will better meet the needs of those with disabilities with much improved access for those with mobility issues and a fully accessible toilet in the treatment area. Infection control is of the highest importance and with bonded floors, wipeable surfaces from floor to ceiling and improved ventilation in line with guidance from SAGE this new build will be a vast improvement. Over the years as the types and number of events hosted on Newark Showground have changed so we have seen a change in the profile of patients. We now deal with many more medical emergencies, with bigger events often running for several days we see more cases of mental ill health but with less cases of serious trauma. The design of the new building will address these changes in its layout. Our volunteers spend thousands of hours covering events on the Showground, quite often providing 24-hour cover over a number of days. We have therefore built into the design improved facilities for staff with toilet, shower, kitchen, and rest room facilities. Overall, this new building will provide excellent facilities allowing our volunteers to provide the highest standards of first aid care. Our aim is to have the First Aid Treatment Centre operational by June 30th 2022. The opening of the centre (now accessible to more events) will mean that some of our mobile units currently used on-site can be deployed more off-site to support other events in the local community.
The Coronavirus pandemic not only interrupted our planning of this new building but also seriously affected our finances. We are therefore fundraising to meet the cost of this new build which will be £85,000. We will be investing money from our operational activities as well as fundraising. We are also grateful for offers of support from local funding bodies, local companies and individuals and from the Trustees of Newark and Nottinghamshire Agricultural Society. We have so far raised from our own fundraising, £1,700 for 5KMay, over £4,000 on our Christmas Raffle and we are grateful to those supporting us through the Newark and Sherwood Lottery. Our next major fundraiser is the Big Give Christmas Challenge – we have already received £2,000 in pledges and hope to double this shortly for this matched funding fundraiser. To release those pledges, we need support during the Christmas Challenge week 30th November – 7th December 2021. If you can organiser a fundraiser on our behalf or are willing to donate direct to our Big Give pages during that week, we would be delighted to hear from you. Please email if you can help us raise funds to: newarkcommunityfirstaiders@hotmail.com
.